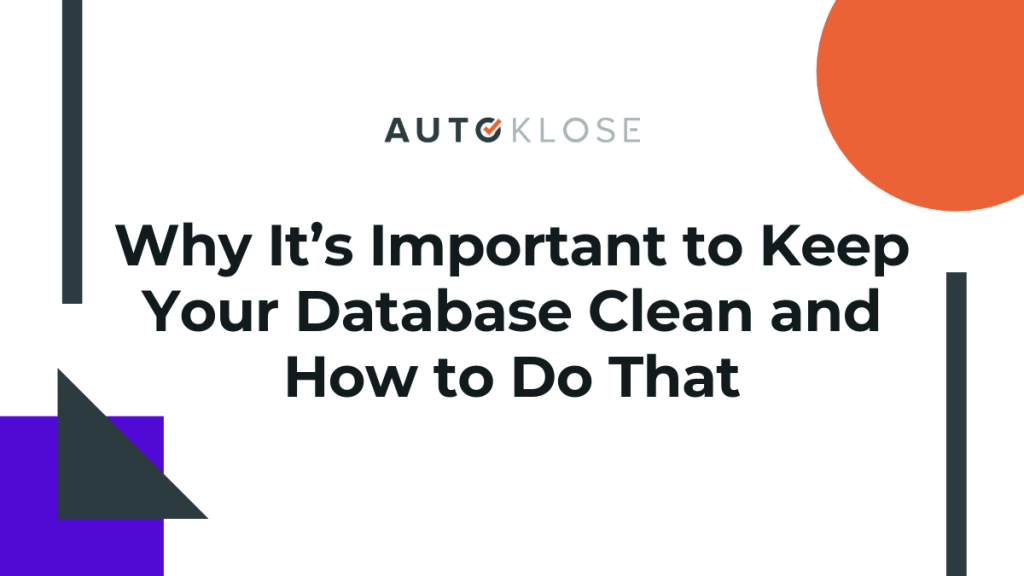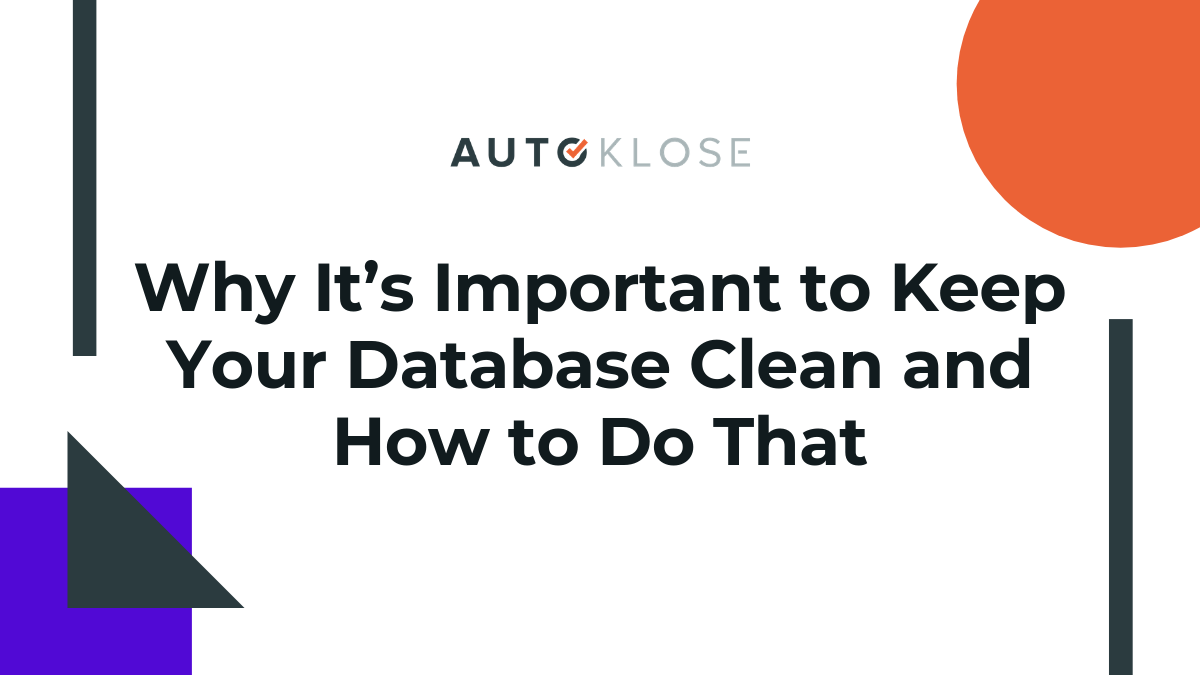 Did you know that 66% of people change their job every year?
In addition to that, almost 20% of addresses and 18% of telephone numbers change every year.
We can sum it up by saying that customer data decay at a rate of 30% per year. Here's another shocker: in the B2B industry, the situation is even worse as data dilapidates to a much greater extent due to high turnover rates, meaning that almost 70% of all the data goes bad over the course of just one year.
These stats alone should be enough to explain why not cleaning your database on a regular basis is a terrible idea. 
This kind of recklessness could ruin your CRM and cost you a lot of money.
You'll Get a Clear Picture
If you don't regularly check your database, you won't have an insight into the quality of your funnel.
How many qualified leads are there?
How many stale contacts are trying to nurture pointlessly?
Who makes up your customer base?
What leads should you disqualify?
You'll get the answers to all these questions once you clean your database.
Understandably, this is a complicated and challenging task, not only in terms of the technical procedure but also because it will most certainly decimate the number of your contacts.
On the other hand, by getting rid of invalid, outdated, and duplicate email contacts, you will be able to segment your list properly and tailor your outreach. 
Needless to say, your delivery, open, click-through, as well as conversion rates will go up, despite the fact that your database may not be as big as it used to be.

You'll Protect Your Reputation
As you know, email clients are getting more sophisticated every day and in order to protect recipients they set up spam traps called honeypots.
Even though you don't think of yourself as a spammer, and even if you're a respectable marketer who doesn't want to resort to such shady practices, your outdated data might put you into a lot of trouble.
Namely, these honeypots are actually inactive email addresses and if your emails end up in their inboxes, you'll most certainly be blacklisted. And the fact that the people who used to own these addresses might even have been your subscribers won't spare you from being penalized.
There's another way in which obsolete data can tarnish your reputation.
The thing is that some people don't unsubscribe when they don't want you to email them anymore.
Instead of that, they simply send your emails to spam, and the more your address gets marked as spam the greater the chances are that email providers will take that as a signal and start automatically directing all your messages to spam.
You'll Be Able to Set Your Marketing Priorities
The situation is very clear with inactive addresses – you should remove them from your list asap.
But things are a bit trickier when it comes to inactive contacts who either subscribed but stopped opening your emails or made a purchase once and never returned.
The question is whether you'll try to re-engage old prospects or focus on acquiring the fresh ones. Once you make a decision, it will be much easier to create an effective marketing strategy.
Bearing in mind that new prospects acquisition is pretty expensive, you shouldn't give up on inactive contacts so easily. At least not before sending them a we-missed-you email and offering them some incentives such as discounts or free shipping.
People who respond to your email should be moved to the active list, while those who haven't responded should be given another chance.
If they fail to respond to another email, remove them from your list, no matter how hard it may seem. This way your list may become shorter, but its quality will be improved.
Your Analytics Will Be More Precise
Marketers heavily rely on various metrics, and if your data is dirty, then your campaign analytics will be off the mark.
For example, if your database has duplicate contacts, it will be hard to qualify leads because scores will be shared among duplicate leads which means that neither of these duplicates won't have a score high enough to be qualified.
Another problem might be emailing the same person with the same message, which is annoying and may prompt them to unsubscribe.
Your A/B tests won't return accurate results, and, basically, all your efforts will be based on shaky foundations.

How to Fix This?
You can start by getting rid of hard bounces immediately.
If you don't do, your emails will keep on trying to reach these addresses unsuccessfully, and you'll very soon be black-listed.
After this first step, you can proceed to track auto-responses and replies. Some of them contain changed addresses that should be updated in your database.
When it comes to contacts that haven't opened a number of your emails, you should check what the reason for that is, and if necessary remove them from your email list. Although they haven't marked your emails as spam or unsubscribed, there's no point in having inactive prospects in your database.
If all this seems too complicated and challenging, Autoklose can come to your rescue.
Use our DataUnlimited feature. First of all, you'll get access to a squeaky clean database, packed with millions of different business professionals from the U.S. and Canada. All these contacts have been verified through a detailed 50-point data scrub, as well as manually double-checked by our data experts. This means that your emails will be delivered the right addresses and that people who receive them will be more than interested to read what you have to say.
Autoklose also eliminates any possibility of duplicate contacts and keeps track of your open, click-through, and reply rates.
Basically, it does all your dirty work and keeps your contact list clean and relevant, and your funnel full of qualified, sales-ready leads.
Scrub your existing contacts with our AutoVerify feature. This is something that will make your life much easier. In a nutshell, this way you'll be able to automatically verify and validate email addresses from your list. Email Verification is the process of ensuring an email address is valid and improving the odds that it belongs to a real person. The whole purpose of email verification is to make sure that a real person with a valid email address will receive and interact with the sent email. We use different validation techniques and our proprietary algorithms during this process, and all you have to do is select email addresses that you'd like to validate, pay as you go, and receive an email with detailed results of the validation process. In case that a certain address has been identified as invalid will be moved to the Do Not Email list. Also, if some of these addresses are in an active campaign, they will also be removed from the campaign and added to the Do Not Email list automatically.