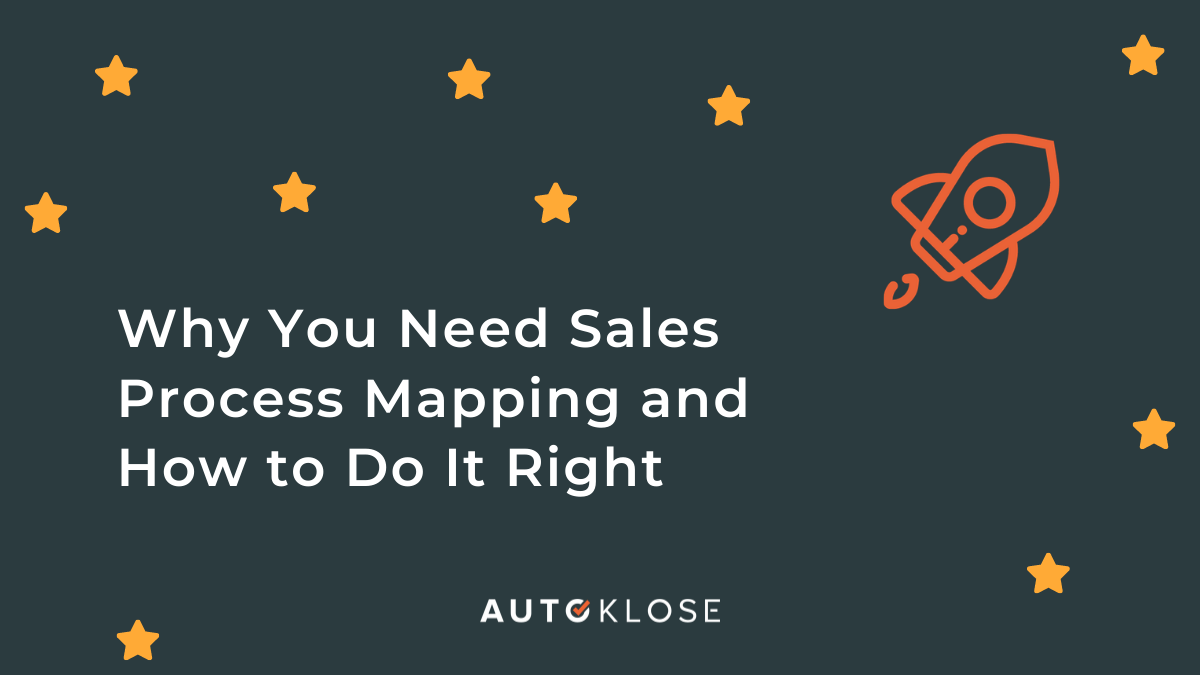 No matter where you're going, you need a map in order to reach your destination.
Sales is no different, meaning that it's essential to map out your sales process and always know what your next step should be.
This procedure will pave the way for success – it will help you attract your leads and direct them towards closing a deal without going astray somewhere along the customer journey.
While some salespeople rely on their gut feeling and seizing the opportunity when it shows up, closing a deal is rarely accidental. A lot of planning and effort precedes that final step.
So, if you want to leave luck out of the equation and be sure that your sales process will result in a positive outcome, here's what you have to do.
What Is a Sales Process?
Before we start discussing sales process mapping, it's important to establish what a sales process is (and what it isn't.)
A sales process is a number of predefined and repeatable steps that, if carried out, will lead to a certain, predictable outcome. In other words, if you follow all the steps, you can expect that the results will be the same or similar as the previous time.
The trick is in process standardization.
It's essential to identify every step and understand how to repeat it.
However, a sales process isn't the same as a sales methodology. These two terms cannot be used interchangeably, despite the fact that they do overlap to a certain extent.
A sales methodology, on the other hand, is the way you sell and how you do it.
However, the main difference between a sales process and a sales methodology lies in the fact that a sales process has to be unique for every organization, while different companies can use the same methodology and be successful.
Having a sales process mapped out and implemented will help you and your team move your prospects through the sales funnel quickly and effectively.

How to Map Your Sales Process?
I've already mentioned the uniqueness of your sales process, and it's important to bear in mind that it depends on your industry, your company, and your customers.
Set Your Goal
When mapping your sales process, you need to start at the end and think about what exactly you want to achieve.
This, for example, can be increasing sales by a certain percent, growing your customer base, reducing customer churn, generating more leads, or increasing your profit margin.
If you're wondering why we're going backward, the answer is very straightforward – if you want to go from point A to point B, it's only logical to know what the B is, right?
It's much easier to make a plan if you know what your goal is.
Include All Those Who Are Involved
And that doesn't mean that it concerns only the sales team.
Although the sales department is at the forefront of the process, other teams also participate in reaching the goal, and that is, in this case, closing a deal.
Remember that your marketing team, customer support, IT department, to name just a couple, play an important role in attracting potential customers, nurturing them throughout their buyer's journey, and bringing them closer to making a sales decision.
In other words, all of them are stakeholders who contribute to achieving your shared goal, which is why they should be included in mapping your sales process. Ask them what they think and encourage them to share their opinion because they can offer some pretty valuable advice based on their experience.
Define Your Sales Process Steps
At this point, it's essential to get everybody to put together a list of steps they take throughout the sales process. All members of your sales, marketing, and other departments should analyze how they get their part of the job regarding pushing a prospect down the funnel.
They should know by now, which particular steps are effective and efficient.
In order to do so, it requires all your teams to look into the previous sales that were successfully closed.
It's very likely that some of these steps differ from the typical ones, so it's crucial to inspect and examine these deviations in order to establish why they occurred and why they were successful. Also, if there were some roadblocks along the way, you should pinpoint how they were solved.
Also, by analyzing the time between each of the steps, you'll be able to understand what exactly accelerates the process. To gain a better insight into this matter, compare a regular sale with faster ones, and pinpoint the common factors that faster sales share. This will allow you to figure out why they worked.
Finally, think about whether it's possible to repeat these steps.
Connect These Steps With Buyer Journey Stages
In order for these steps to make sense, you need to align them with the stages of the buyer journey.
On one side, there are the awareness, consideration, and decision stage, while on the other, we have prospecting, connecting, researching, presenting, and closing steps.
You can do this by creating your buyer personas and understanding who exactly they are and what makes them tick. Make sure to analyze what they need and do during every stage of their buyer journey.
However, the most important thing is identifying the triggers that move them from one stage to another. Your historical data will help you with this as it's there that you can notice these compelling moments and particular details that made them take action.
Also, by looking into your historical data, you'll be able to spot the points of friction and obstacles that led to losing prospects.
Keep Track of Your Performance
Finally, monitoring your performance is the only way to see whether your sales process is successful or not.
After you've mapped the steps, it's critical to see whether they're working and what can be improved.
Decide what you want to measure as that will tell you what KPIs and metrics you should focus on. In other words, it's important to define success on your own terms.
Think about that goal from the beginning of this section and consider what "successful" would in the sense of generating new leads or what a successful conversion rate is.

What Mistakes You Should Avoid
Here's a list of the most common mistakes to avoid when you're mapping out your sales process with your team. 
Don't make the steps too vague. Be specific so that all members of your team can understand what comes next.
Don't get carried away with the number of steps. While it's OK to be specific, don't get into the tiniest details. There should be only enough details to be clear enough.
Don't forget that your customers come first. It's them you should follow and base your decisions on.
Don't take steps that aren't actionable. Make sure that all the steps push you towards taking action and accomplishing something.
Don't try to squeeze your process into a map. Do the other way round and transform your process into a map. So, it's not the process that you'd like to have, but the one that actually takes place in the real world.