Salespeople have a somewhat bad rap, and that's why we should do something to step away from that overly-eager-salesperson-that-tries-to-push-their-agenda-persistently stereotype.
Our customers have changed and they don't want to be disturbed with an unsolicited sales pitch.
Even when they need our products or services, they will be too annoyed by a perceived lack of genuine interest for their problems and pain points that many salespeople tend to give off while desperately trying to sell.
Personal selling is a modern approach that should be a part of every salesperson's arsenal together with email outreach, telesales, different promotions, ads, and PR.
So, What Is Personal Selling?
Personal selling is a tactic that leverages a face-to-face or one-to-one contact between a salesperson and a potential client.
It can be in the form of a meeting, email, phone call, or video chat, but this direct communication isn't the only factor that makes this sales approach personal.
Instead of trying to make a sale at all costs, companies engaging in personal selling shift to a problem-solving attitude and aim to help their prospects to find solutions for their pain points. Naturally, their products and services play a central part in the equation, but it's a tailored effort to explain to the prospects how they can benefit from using these products and services.
So, we can say that personal selling in a way humanizes sales by eliminating the one-size-fits-all approach. In other words, a salesperson knows exactly what challenges and issues every particular prospect tries to overcome, and builds the entire narrative and offer around solving them.
What Are the Benefits of Personal Selling?
It's obvious why approaching your potential customers in such a way and understanding their needs is a scenario that works, but let's elaborate more on the advantages of this strategy.
It allows you to get in touch with your prospects on a personal level and uncover different important details about their business that will help you connect the dots and create an unmatched offer.
With personal selling, you'll build a more profound relationship and loyalty with your prospects and pave the way towards becoming a vendor of their choice.
Your team will be able to address any potential objections, concerns, or dilemmas your prospects might have, and eliminate them.
Generally speaking, personal selling significantly increases the probability of closing a deal.
However, a personal selling process is very complex and requires a great deal of planning and evaluating your prospects.
What Are the Challenges of Personal Selling?
I'm not going to lie – personal selling is no picnic!
First of all, you should know that not all your prospects will be willing to say yes to a meeting. As a matter of fact, almost 60% of them believe that meetings don't bring much value.
However, even those that are ready to jump on a call or meeting with you shouldn't be taken for granted. It's true that they're very interested in what you have to offer them, but in order to win them over, you need to prepare well and deliver a superb sales presentation.
Let's not forget that personal meetings incur additional costs, such as travel expenses. But what's even more expensive is all the time that you and your team will invest in preparations for the meeting.
That's why it's essential to identify the prospects that are the right fit for your business and figure out how high the likelihood of closing the deal is. Otherwise, you'll just waste your time and money.

Personal Selling Tips and Tricks
Now that we've defined what personal selling is as well as what it's benefits and challenges are, let's discuss some actionable tips and tricks that you can employ and make your efforts worthwhile.
Qualify Your Leads
Before you decide to catch a plane to meet a prospect who agreed to a meeting and spend a couple of days working on the deal, make sure to focus on the prospects that are most likely to convert into paying customers as well as those that have the potential to spend more money on your solution.
And while not every meeting will result in a sale, what you can do is answer a couple of lead-qualification questions and assess how each prospect stacks up:
What's the value of the deal?
How big is the business you want to sell to?
Does your product or service fit the target company's needs and will it genuinely benefit from using it?
Is there a possibility to secure more business opportunities through building a strong relationship with the decision-maker?
What kind of direct contact is the most suitable for a particular DM? If your prospect is an extremely busy professional, maybe a phone call will be a better option.
Will you be able to add some value to your relationship with the prospect by having a meeting? In other words, don't do it just for the sake of it.
Prepare Thoroughly
This is a crucial step of this strategy because if you expect to show up in a meeting without having a very detailed plan and without knowing your prospect and their business, you'll simply waste both their and your own time.
Needless to say, this will annoy them and prevent you from potentially having another opportunity with that prospect.
Find out everything you can about your prospect, take notes while talking to them on the phone, and analyze their emails as that will help you unearth different valuable information about them with which you'll be able to create a tailored offer.
Active listening is one of the most important skills of every great salesperson. Instead of doing all the talking and convincing your prospect why your product is awesome, ask questions and let the prospect share their thoughts and ideas.
With such a constructive and friendly approach, you'll show that your ultimate goal is to help them succeed, and that's the best way to earn their loyalty.
So, ask a lot of questions and pay attention to what your prospect is saying.
Focus on the Benefits of Your Solution
We've talked about this a number of times – don't talk about the technical specs and features of your product or service, because your prospects aren't interested in that.
What they need to know is how exactly that product or service will help them overcome their issues and improve their business.
This tactic requires you to understand all the challenges of your prospect's business and align your product or service with them by through benefits.
Address Every Single Objection
Even if you do everything by the book and prepare well for the meeting, don't expect that everything will go smoothly every time.
Sometimes your prospects will need more time to figure out what's in it for them, and you have to help them.
The trick is to discuss the objections and not avoid them. Don't be afraid to mention a particular roadblock or even ask your prospect something along the lines of:
"Do you have some concerns related to our product or service?"
"Is there anything that prevents you from buying?"
"Do you think that this product/service can contribute to your success and how?"
"I'm under the impression that something worries you, and it would be great if you'd share your thoughts with me so that we can work things out."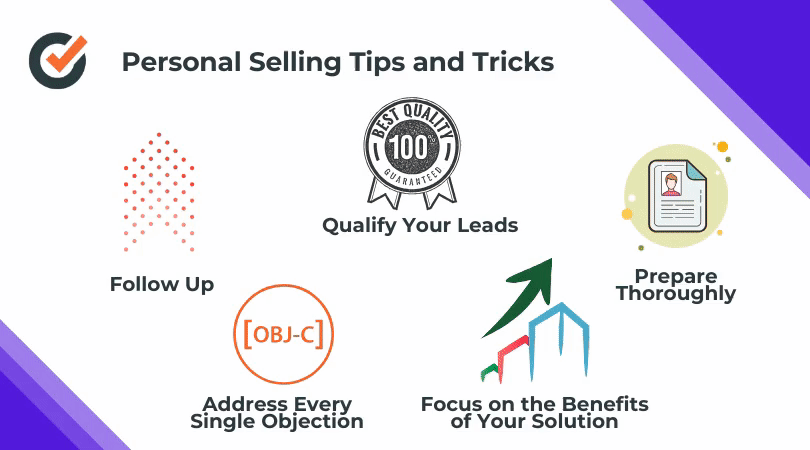 Follow Up
After the sale has been successfully completed, make sure to get in touch with your new customer and ask them how their onboarding process is going as well as how satisfied they are with your solution.
Don't neglect this step as it will ensure customer satisfaction and potential extension or upgrade of your contract.