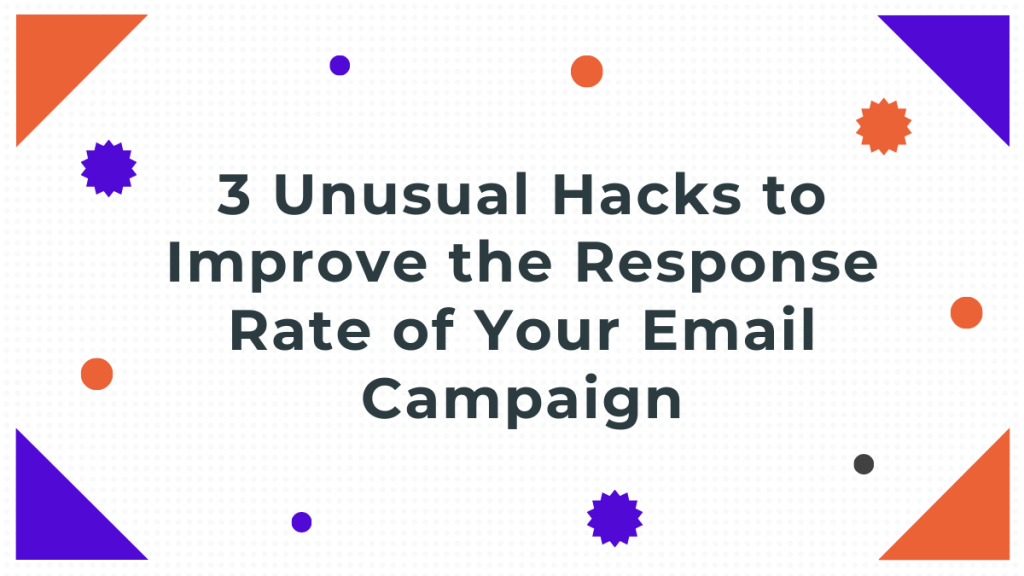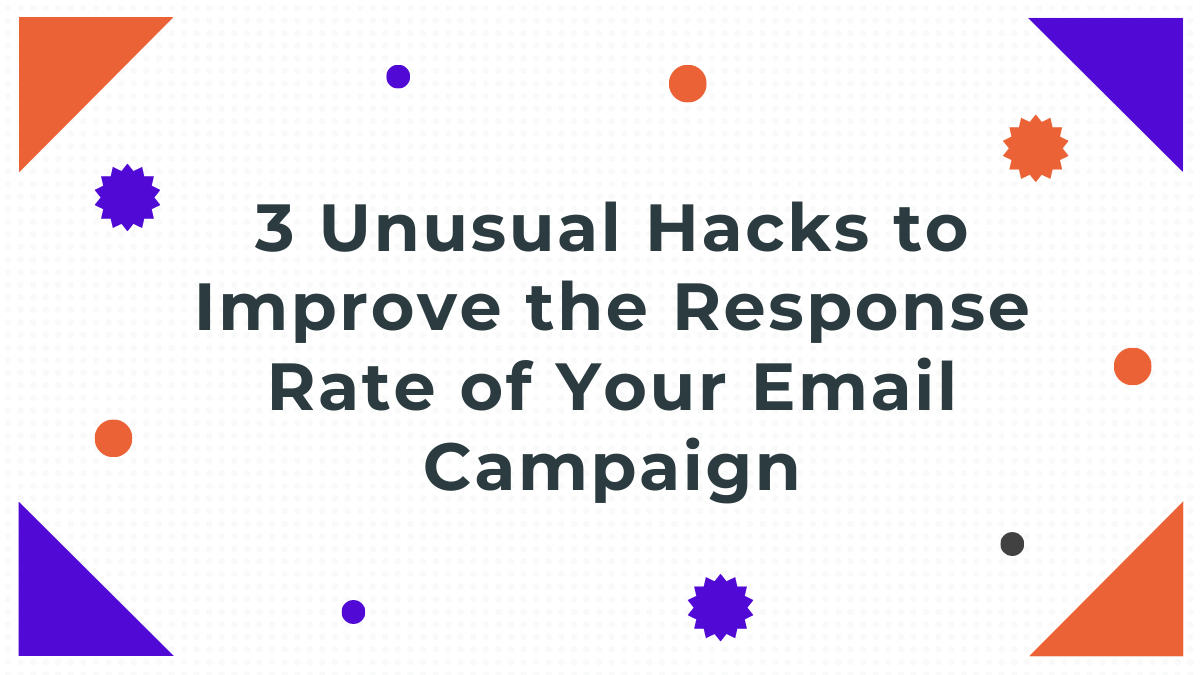 Sending emails as part of an outreach campaign to generate fresh leads for your business? That's easy. Anyone can create an email template and press "send."
Getting responses to your mails? Now, that's the hard part. And in this digital age, where your competitors are innovating to get the attention of your clients, you can't afford to lose out. Your goal should be to avoid landing in that pile of 500 unread emails that the average American adult has sitting in their inbox.
As long as clients are not opening and responding to your emails, your business will suffer. From catchy subject lines to creating FOMO, there are tons of tips on how to enhance your response rates. In this article, I will show you three unusual and less-talked-about ways to increase email response rates.
Before that, let's examine response rates and what benchmark you should set for your cold outreach.
What Response Rate Should I Aim For?
Fast Company recently conducted a survey where they sent out cold emails to 1000 business executives. Of the 707 emails that didn't bounce, 45.5% were opened. Even more telling, only 1.7 of emails sent received a response.
The average response rate for cold emails for marketers and salespeople is 1%. This means that for every 100 cold emails you send, only one person responds. However, that rate can be drastically increased to 15% or 20% if cold outreach is done right.
Don't settle for low response rates. Instead, experiment and fine-tune your cold pitching until you find a template that works for you. Test, measure, rinse, repeat methods until you find a best-fit. Let's look at three unusual ways to increase the response rate from your cold outreach campaign.
Add Videos to Your Outreach
Email is a great medium for outreach. Unfortunately, 93% of the way we communicate is nonverbal. This is a serious stumbling block with email.
Video is a natural counterpoint to this. As you're no doubt aware from watching the TV, you get a lot of nonverbal cues through video. There's the tone of the presenters' voice, their body language, gestures, and a lot more besides. All of these things can help make you more engaged in a topic and the person presenting the information.
Marketers have been aware of the value of video as a means of generating sales since, well, since the invention of the TV. And you can make use of this medium to increase your response rate for your cold outreach campaign.
The person who first showed me how to use video in a cold outreach campaign was Daniel DiPiazza. He used video when undertaking cold outreach on Elance, as it was then called, to close more prospects into clients. He was selling a web development service. Below is a screenshot of his outreach template.
You can see how the focus of this email template is to push the recipient to watch the video. It is through the video that he is able to share his expertise that helps him land more clients.
I've had success using the same formula myself to sell SEO services. The email template I used was similar to this:
Subject Line: Problem With Your Website
Hi NAME,
I can see you've spent a lot of effort on SEO, but you're sitting on page two of Google for a lot of valuable phrases. I'd like to help you change that. I created a short two-minute video explaining how to get your site to the top of the first page: youtube.com/yourvideo
Let's arrange a Skype/phone call. I'd love to walk you through what I do and how I can help you grow your business.
Cheers,
NAME
Send Emails at the Right Time
Yes, you read that right. Sending emails at the right time may be the difference between high and low response rates to your cold pitches. Let's start with the best day to send emails.
According to a study by Coschedule, prioritize your send days in this order:
Tuesday: This is hands down the #1 best day to send emails according to the majority of the data from these studies.
Thursday: If you send two emails a week, choose Thursday for your second day.
Wednesday: While no single study showed that Wednesday was the most popular, it came in second place several times.
Take a look at this study. Tuesdays and Thursdays are the highest volume days for email engagement.
Source: Wordstream

What about the best time to send emails? Omnicore did a study and this is the result they came up with:
Clearly, the best time to send emails is during breaks: 8 am, 1 pm, and 4 pm. At these times, people are usually available and checking their emails. However, as more users are opening emails on their mobile phones, evenings are also an excellent time to send mails.
Most mobile users are active during the evenings.
While there are various suggestions on the best time to send emails, you would be better off finding out what works for you. That's why you should have a data analytics dashboard where you can monitor the open rates and response rates to get a fair idea of what works best.
Run tests emails on various clients based on psychographics and demographics until you find out what works best for your clients. If necessary, you can conduct a survey or interview to find out the best times for your email campaigns.

Wrapping Things Up
Whether you use email to bring in new customers or as part of your go-to market strategy, the email response rate is a vital part of your business's growth and bottom-line. While there are tons of tips and tricks to sparking customer's response, this article presents three effective ways to increase email engagement.
In this article, I have shown you how using videos, adding personalized images, and sending emails at the right time can make a world of difference. With the above-listed points and actionable tips, your email marketing should experience a new lease of life.
Take these points and test them on your customers. Find a way to adapt the points to your email marketing strategy. If you have any questions, send me a comment in the comment box below.
Author: Owen Baker is a content marketer for Voila Norbert, an online email verification tool. He's spent over a decade in online marketing. He enjoys sharing his knowledge of content marketing across a range of websites.