I'm not rich enough to buy cheap things, says an old proverb.
And this pearl of wisdom is perfectly applicable to our contemporary and modern business ways.
Marketers and salespeople heavily rely on huge volumes of customer and sales data in order to be able to tailor campaigns and promote their products or service, and it's only logical if the data they use isn't accurate, their efforts won't come to fruition.
Big Data is the concept which has taken the business world by storm over the past couple of years as it provides not only the possibility to collect a gargantuan amount of detailed data sets packed with invaluable information but also to make sense of them.
Namely, up to some time ago, these gigantic data sets couldn't be properly utilized because all the data was unstructured, and with the latest tools it's possible to process and analyze every bit of the information you have about your clients and prospects, and put this knowledge into perspective – that is, use it to create tailored, personalized, and genuine outreach which will resonate with your every prospect individually.
So, we're good, right?
Not exactly.
The problem is that this vast data is collected unselectively and we don't know where exactly it comes from.
So, before we make a big mess and jeopardize not only our outreach but also online reputation, let's see why data hygiene is essential and how to maintain it.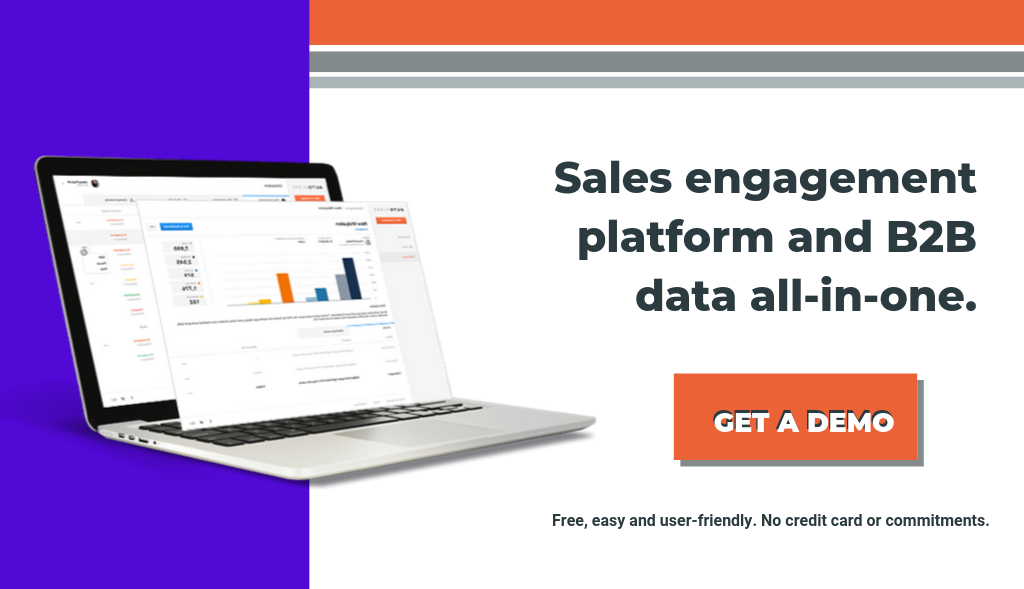 When Data Goes Rogue
Dirty data aka rogue data is a term used to describe inaccurate, incomplete, and inconsistent data.
You don't have to be a rocket scientist to understand that having a wrong phone number can be an obstacle that will keep you from reaching a particular person.
Now imagine what happens in the business world: every year thousands of people change jobs, phone numbers, get married, divorce, move, and their lives take all kinds of different directions.
30% of people change jobs every year which means that you can reach out to a prospect only to find out that they no longer work for the company you want to do business with.
Or that they changed their last name after a nasty divorce.
Or you might not be able to reach them at all because they have a new number – as 43% of people change their phone numbers every year too.
Did you know that 25-33% email addresses become outdated within 12 months?
All this can have a significant impact on your delivery and response rates, not to mention how much time you will waste trying to trace a prospect.
As you can see, B2B data dilapidates at a very fast pace, and if you fail to keep track of these changes, you'll find yourself among 62% of organizations who leverage inaccurate marketing/customer data.
That's bad because of the following:
1. You're wasting your time and money. The latest reports show that your sales and marketing departments lose 550 hours and approximately $32,000 per rep annually due to the use of bad data. So, basically, your team tries to nurture half-baked, lukewarm leads instead of spending their time effectively and engaging high-quality leads. Needless to say, this is frustrating for your sales reps, as they're trying hard to close deals and fail due to the lack of valuable data.
2. Your churn rate is soaring. If you notice that you're bleeding subscribers who leave your newsletter list after a certain period of time. There are two kinds of churn, and both are related to bad data. The first one is transparent and it refers to unsubscribes, hard bounces, and spam complaints – all those can be the result of the fact that you're sending irrelevant emails which annoy your recipients. The second type is significantly less obvious – these prospects churn simply because they can't see your emails as they end up in the spam folder or they don't use that email address anymore. It's clear that data decay can ruin your email campaigns.
3. Your emails aren't properly tailored. Naturally, if you don't have accurate information about your prospects, you won't be aware that Jack, marketing manager of the company, has been promoted and that the content you're sending him doesn't fit the bill anymore. Also, if you've bought a list on the internet (I strongly advise against this practice!), you might email your prospect and greet him with Hello Sean, which won't be a problem unless the guy's name is actually Sean. You get the picture.
4. You can get blacklisted. All the previously mentioned consequences of using dirty data are bad, but this one is the worst. Bear with me, because this is pretty important to remember. Almost 85% of all emails sent on a daily basis can be classified as spam, and blacklists exist in order to prevent all that irrelevant content from flooding people's inboxes. Email service providers do their best to stop ruthless spammers, and they use so-called honeypot traps – dormant or now-defunct email accounts. Accounts that aren't used for a long time are disabled, and those who send emails to such accounts have enough time to notice that a particular account is unresponsive and eliminate it from their list.
However, if a sender doesn't do that, a honey trap (which is actually a re-activated defunct email address for the purposes of catching spammers) draws the attention of the ESP which then concludes that the person sending all those emails after getting hard bounces constantly must be a spammer who doesn't perform regular list hygiene. And just like that – you can get blacklisted. In other words, your every email will end up in spam. But, again, that's not the worst thing.
If you're not careful and if your data is outdated and corrupt, you can even burn your domain in which case you won't be able to use it ever again, and all your correspondence and campaigns will be lost. Even though you're a legitimate sender! Yes, that's not fair, but you have to some measures of precaution.
Read more on how to protect your domain from this worst-case scenario.
After we've covered the bad things that can happen if you use bad data, let's see what you can do to be in your prospects' and ESP's good books.
Data Hygiene Is Two-Thirds of Health
Yet another proverb, this time Lebanese, cuts to the point of this issue.
In a nutshell, you need to review and clean your list on a regular basis. It's essential to update your database with the latest details (new titles, email addresses, phone numbers, etc.), add missing fields to your contacts, and get rid of your hard bounces, duplicates, and unsubscribes.
This will obviously shrink your leads, but there's no need to worry about it – you'll be better off with a decimated email list filled with high-quality leads interested in your content and offers than have a huge list of contacts that don't even open your emails.
Apart from this, you can also use data from different channels to create more comprehensive customer profiles. In other words, try to connect social media handles with your existing leads and integrate different tools to make the most of every piece of information you have on your prospects.
Some benefits of scrubbing your list are:
Improved email deliverability. You won't have to worry whether your email reached intended recipients. A great deliverability rate, in turns, vouches for you in the sense that you won't be flagged as a spammer by your ESP.
Better open and click rates. The fact that you're sending your emails only to people who are interested in your offer will boost means that your emails won't be marked as spam and you'll have a pretty good idea of how effective your outreach is.
Reduced costs. Certain ESPs charge you based on the number of emails you send or the number of subscribers you have. By keeping your list clean, you can slash this price and save some money instead of wasting it on those who aren't interested in your emails anyway.
Accurate analytics. By reaching out only to prospects who want to receive your messages, you'll eliminate spam complaints and disengaged, unresponsive contacts who apparently aren't your target audience. This way, you will be able to analyze your marketing efforts using the right sample and get relevant stats about how your campaigns are performing. In other words, the stats you get will help you improve and tweak your future marketing efforts.

Here are a couple of tips on how to actually keep your list clean.
Standardize Your Data at the Point of Entry
Even if you're regularly scrubbing your data and eliminating inactive contacts, merging the duplicates, and completing the missing entries, your sales data hygiene won't be properly maintained if you let bad data into your CRM.
So, make sure to standardize the way new data enters your database, meaning that a uniform standard operating procedure should be followed. This basically means that your reps, and whoever is entering the new data, should check all the required fields – name, last name, company, title, job – and include only data entries that are complete and accurate.
This point of entry check-up will help you let only relevant, high-quality data in your database, prevent duplicates, and mistakes. So, the Shawn/Sean or Mark/Marc or Cathy/Kathy incident won't happen.
Complicated and time-consuming?
You bet.
But our next tip can help you with that.
Use Autoklose B2B Database 🚀
Instead of doing all the heavy-lifting manually, on your own, you can sign up for Autoklose and get access to our impeccabily clean and regularly updated database with millions of high-quality B2B leads.
Our team of data analysts makes sure that every single piece of information is accurate as well as that every contact is complete.
All these leads are thoroughly scrubbed and verified so that you can be sure your every email will not only reach the intended recipient but also that the recipient in question is relevant for your industry and offer.
What's even better, you can pick the leads you want based on a number of different parameters including location, title, job level, industry, company size, revenue, etc. and send tailored campaigns.
You can also import your own lists and integrate Autoklose with different CRMs without the fear of duplicate contacts.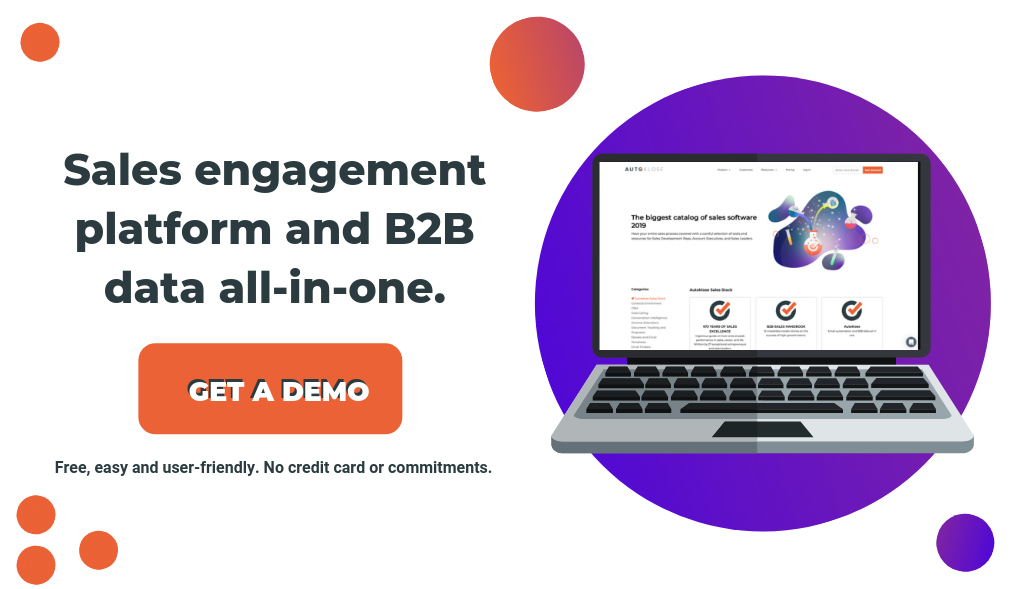 So, by using Autoklose, you're providing your sales and marketing departments with the right data, meaning that they won't spend hours of their time crafting an offer and marketing message for a lead that's not interested in hearing it or can't be reached due to wrong email address or phone number.
The conclusion is that bad data is pretty expensive, not only in terms of time and money. It's also your reputation that you put on the line, and that's something that can cost you a lot if you're using dirty sales data.

10
min read via @autoklose"/>