In one of our earlier posts, we were talking about best email subject lines that will increase the chance of getting your email opened by your prospects. If you haven't read it yet I suggest you go and check that out first.

Done? Great, let's move on to email opening lines now.

What should you say at the beginning of an email?
First, let's try to understand why so many cold emails don't get a response. To do that, let's take a look at a typical cold email opening line. Most of them look something like the following:
They start with a standard greeting like hi or hello
Followed by a boring sender introduction – my name is this, I work at blah blah company
Then continue to talk about their company in superlatives and that's something no one really cares about.
First and the most obvious mistake in cold emails is that majority of salespersons make it about themselves and about the company they work for. They do not bother to mention straight away WHY they are sending the email and HOW they can help the person or business they are trying to get in touch with.

To avoid this mistake, start off with a bit more personalized approach by taking some time to get to know your prospects and their needs. Find a connection between you and them and a unique approach in order to explain how all the parties involved will benefit from this potential relationship.

Generally speaking, cold outreach can be tricky, which is why I think that you should read another blog post that will additionally help you boost your cold email response rate.

But, what to use as an opening line and how to draw the attention of your leads when they open that email you took time to carefully craft?

It's simple.

Follow these four different email openers, and you'll be all set.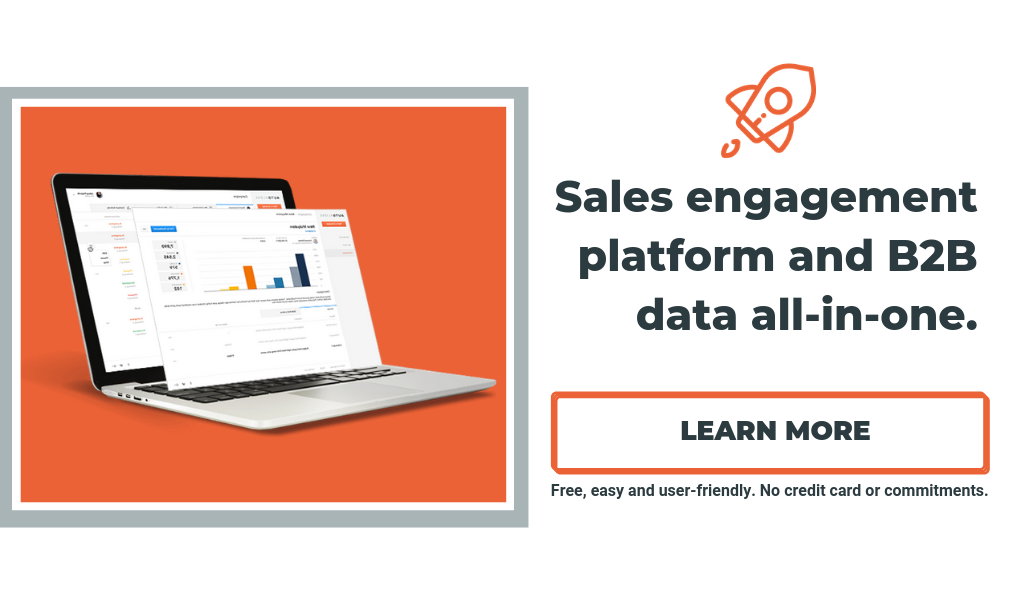 Focus on Trigger Events
People don't want to feel like they are being spammed with a mass email campaign, so adding some type of personalization can go a long way. Find a recent reference that you can start your email with and show your recipient that you are familiar with their company in some way.

Trigger events can be something that happened recently in your prospects' company or professional life. For example, they have moved up to a new position, their company received new funding, announced expansion into new fields and markets, or launched a new product or service.

Tip: Use Google Alerts to track news about the company in question so you can quickly use new opportunities in your cold email.
1. A new position
If your prospect recently moved up to a new position or has changed companies, a sincere congratulations in your opening line will give your relationship a positive start.

Opening line example:
I saw on LinkedIn that you moved to a new position, congrats. I bet you could use [product] now.
2. Reaction to competitors
Another thing you can try is to mention something their competitors did, ask them about their response and give your personal opinion or advice about solutions you think could work.

Opening line example:
Did you notice your competitor has begun using this new technology? Are you planning to follow their lead?
3. A market shift
Did a new shift in a particular field occur? Let your prospect know and give them your opinion on how it can be best dealt with.

Opening line example:
Is your business planning to grab this new opportunity? If I were you I would do…
Ask a Question
Starting a cold email with a question can spark your prospect's interest and "lure" them into a conversation.
1. Use your own curiosity as a gambit
Asking a question or asking for someone's opinion on current affairs is a good way to get your lead to respond to your email. If you ask your prospect about their business they will probably start a conversation with you, as most people like talking about themselves and their work. So, if your question hits the right spot, it will surely prompt a response from your contact.

Opening line example:
I have been following your company and was wondering how you deal with…
2. Ask if they need help
If you are contacting someone in an attempt to sell them your products or services, try to find out if the company or individual in question is having issues in a particular area. Maybe the product that you are selling or the service you are offering can help them.

Opening line example:
Are you having difficulties with the churn rate? From my experience, the thing that can help is…
First Give, Then Ask
Providing a piece of valuable information or an interesting statistic to your prospects in the opening lines can build trust and show that you understand what their business is about. It also shows that you are knowledgable enough and worth listening to.
1. Give them an interesting statistic
Did you know that 87% percent of people trust you more if you give them a statistic?

Now, I did make that number up, but I bet you did find that 'fact' realistic. Of course, I'm not saying you should make numbers up, just that you should try to find something interesting that will entice your prospect to read the rest of your email. Maybe recent research found something that relates to their issue or opens the door for your solution. Take some time and find that out.

Opening line example:
Did you know that the latest research shows that 78% of customers from this demographic segment would buy…
2. Offer a solution to their problem
If you offer immediate value in the opening of your cold email, your prospect will appreciate this and have more confidence in doing business with you. Do little research about their company, find out if there are some areas they are struggling with and try to think of friendly advice that could help them.

Maybe you or your company write a blog or white papers that cover something which provides value to them. It doesn't have to be a complex thing, just something to get the conversation going.

Opening line example:
I saw that your company had problems with [issue] lately. I remembered this blog post that may help you.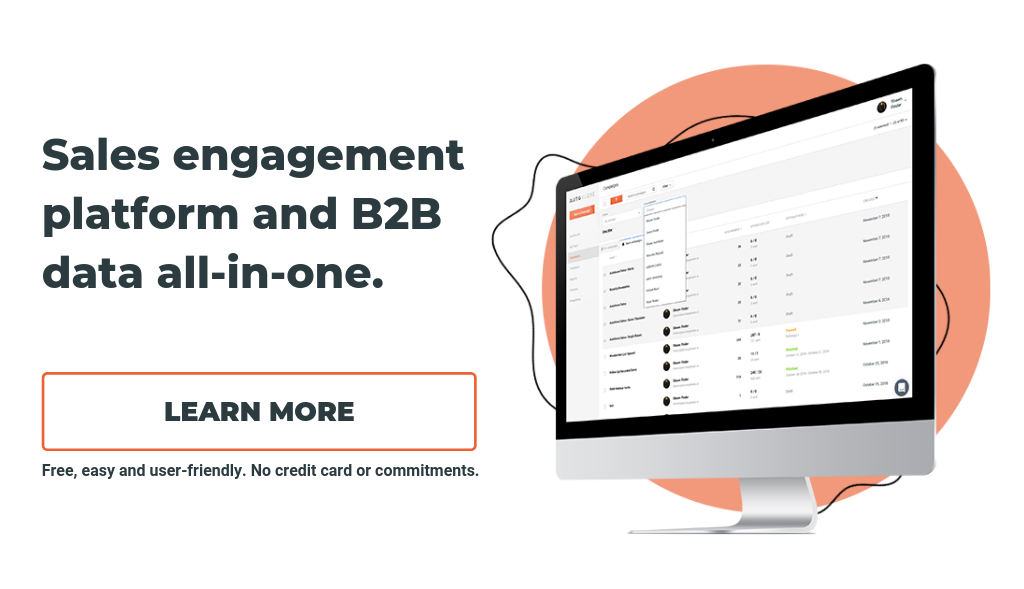 Find a Connection
Finding some mutual topic you can start a conversation with your prospect can really kick things off. Check your contact's website or LinkedIn page to see if there's something you can use.
1. Use your shared background
People generally like working with others they know or at least have some kind of a shared background with. This can be anything from a high school, college, previous job, or city they grew up in. Of course, it's best if the connection is work-related.

For example, maybe the person you are sending a cold email to has written a post for an online publication you follow. Or perhaps, they were speaking at a conference you attended.
Try to find any connection no matter how small it may seem and use it as a conversation starter.

Opening line example:
I have seen from your LinkedIn profile that you were at that trade show last week. I was also there representing my company. Our line of work is…
2. Use a personal connection
A shared connection with a person both you and your prospect know and respect is one of the best ways to start a cold email with. Getting a recommendation from a mutual connection is even better, but not always necessary. The mere fact that you know someone who is a kind of an authority or a close friend to the recipient is enough to make them pay closer attention to what you have to say.

Leveraging your network in the right way should be on the top of your list for cold email opening lines.

Opening line example:
Jill told me about you, she thinks we should talk business…
Final thoughts
The best way to make a cold email effective is to position your subject line with the opening email lines. Your subject line should work as an introduction and a promise you will deliver in the opening lines of your email. Only after you have made sure that every part of your email is working in your favor, you are free to hit send.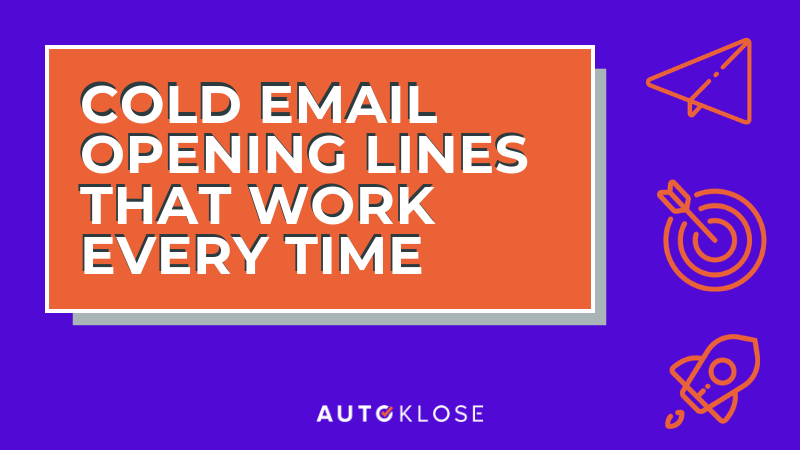 7
min read via @autoklose"/>