Our Mission
Autoklose was built in order to help salespeople automatize all those repetitive and tedious tasks during the sales process, save time and money,
as well as be able to focus on selling and growing their business.
We have identified that there's a demand for a comprehensive sales platform that addresses all these pain points, so we started developing Autoklose, having all the complaints of salespeople in mind. The final product is intuitive and easy-to-use software, backed by artificial intelligence and machine learning, capable of assisting salespeople in predicting and planning their sales, identifying when prospects are ready to buy, and generally speaking, making their lives easier.
Our team consists of driven people, who are constantly improving Autoklose functionalities, and meet salespeople's demands. Our headquarters are in Toronto, but we also have a team of developers, software engineers, data analysts, and designers in Serbia.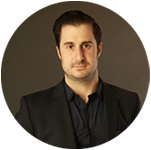 Shawn Finder
CEO of Autoklose
B2B sales strategist, with more than 15 years of experience in sales, lead generation, and marketing
You want to start managing your funnel and closing more sales,
but you aren't sure how to get the ball rolling?
Autoklose will lend you an extra pair of hands.