The Future of Sales Automation
Autoklose is the only all-in-one sales platform you'll ever need

BOOK A DEMO
The ABC of Autoklose in Four Simple Steps
Target Leads
The sky's the limit when it comes to generating and targeting your leads. Autoklose allows you to connect your Salesforce account, upload CSV files, or cherry-pick clean and verified leads from a large database managed by our third-party provider.
Campaign
Autoklose comes equipped with a number of customizable, high converting email sequence templates that you can choose from depending on the type of business event that you want to promote. Reach out to your prospects with a series of irresistible, personalized pitches. That's not all, as they can book appointments with you with no more than lifting a finger, selecting a time slot from your calendar, and clicking the scheduling button.
Analyze
Powered by AI and machine learning, Autoklose will provide you with detailed analytics so that you can get a complete insight into all kinds of important metrics such as the time when your prospects open your emails, CTR rates, logs of the clicks in real time, and the time when they replied.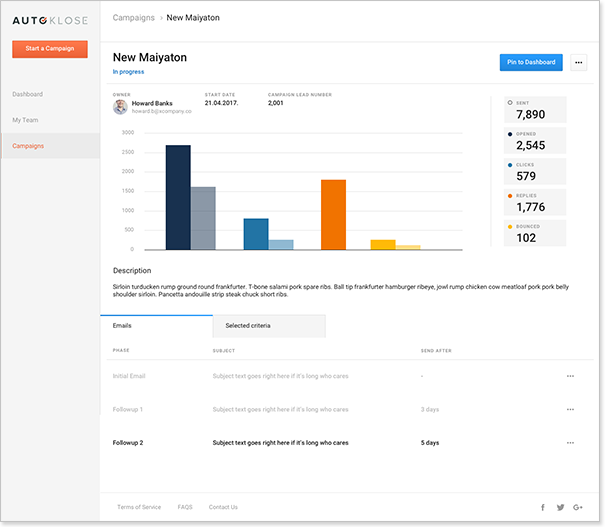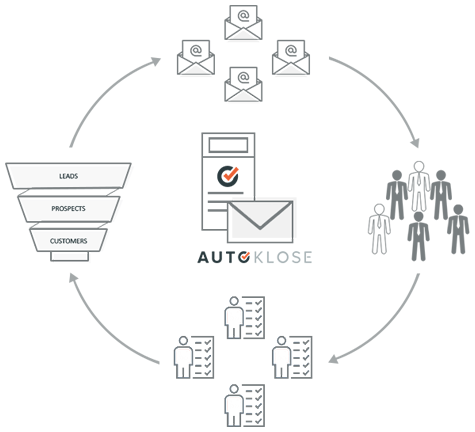 Manage
Control lead generation, email campaigns, create various teams, and delegate tasks to improve the efficiency of your business. Manage all aspects of your team…
Autoklose will boost your sales team's productivity and performance
Autoklose provides all actors in the sales process, including SDR managers, account executives, sales development reps, and sales leaders with an extensive, centralized framework that will steadily increase their productivity and performance.


BOOK A DEMO
You're in good company
Thousands of people around the world have already made Autoklose part of their sales must-have toolkit.

"Autoklose has helped tremendously with not only cutting my outbound process down by over 500% but helping me form relationships at an unthinkable rate. Automation is becoming an integral part of my business development, operational costs, and nobody is capitalizing on those innovations more than Shawn and his team."
Tyler
President, Haus of Hooray
"AutoKlose is what I was looking for regarding sales automation tool. It is that kind of the tool that you actually spend time using it, and not learning how to use it."
Victor
Head of Growth, Four Dots

"Getting quality leads is a lot of work, plus there's a whole process of actually emailing everyone, staying on top of everything and converting leads into sales. Autoklose helped us immensely by automatizing our sales process and by keeping everything in one place. Not sure I can image our sales process without it anymore."
Ned
CEO, Neopix
With Autoklose, you will:

Automate and streamline all repetitive and time-consuming tasks

Shorten your sales cycle and increase the size of your deals

Reduce overhead costs and minimize needless spending

Increase customer retention, sales, and profit
Have more time

Encourage creativity and innovation, as you and your team will be able to concentrate on reaching your full potential and focus on the core and fundamental aspects of your business
Without Autoklose, you will:

Waste almost all your time on tedious, menial tasks that don't essentially contribute to the growth of your business, but still have to be done

Not be able to handle the influx of new clients, which will result in your business going stale

Throw tons of money away on slow and inefficient sales tasks and processes

Be constantly busy and tired

Get your business stuck in a rut
Miss out on countless business opportunities
You want to start managing your funnel and closing more sales,
but you aren't sure how to get the ball rolling?
Autoklose will lend you an extra pair of hands.